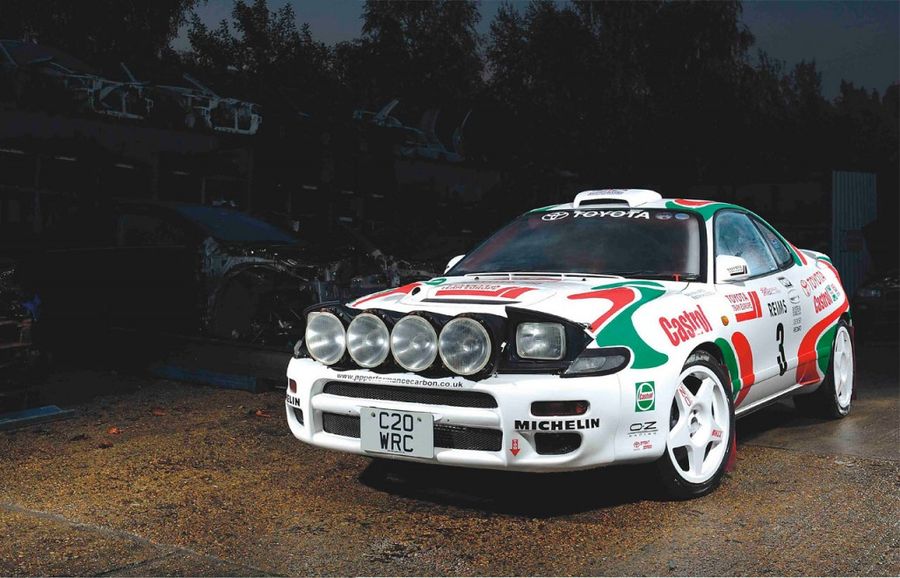 Carlos Sainz is widely regarded as one of the greatest competitors that the World Rally Championship has ever seen, but he was hardly what you'd call an overnight success. In fact, despite picking up the driver's title twice in the early 1990s (and fi nishing as runner up on four other occasions), the Spaniard had already spent a number of years fruitlessly chasing silverware from behind the wheel of a Cosworth powered Ford Sierra.
It wasn't until El Matador was signed to Team Toyota Europe in 1989 that his fortunes would change for the better. TTE had been racing the fourth-generation Celica (ST165) GT-Four in the WRC and had notched up some impressive wins, but a determined Carlos topped the team's previous achievements with the car by bagging the driver's title in the 1990 campaign. It was an effort that helped Toyota to nab the runner's up trophy in the manufacturer's championship of the same year, and went some way to securing a reputation for both car and driver as a force to be reckoned with.
TTE continued to use the turbocharged ST165 during 1991's WRC outing. Sainz was doing a fi ne job of defending his title, but an unexpected retirement at his home rally stage in Cataluña relegated the star driver to second place at season end (despite scoring more points than in the previous year!). It was a bitter blow, and once again Toyota found itself robbed of the manufacturer's top spot. Behind the scenes, however, the Japanese car maker was developing a secret weapon to add to its arsenal of formidable four-wheelers...
In case you were wondering, GT-Four is a handy acronym for the unforgiving mouthful, Grand Touring Fulltime On-Road Uniquely Responsive. Of course it is! The badge also nods at the car's four-wheel drive capabilities, and Toyota set out to provide TTE with ultra-competitive machinery with which to contest the WRC in 1992.

The result of this determination to succeed came in the form of a homologated model labelled as the Celica Turbo 4WD Carlos Sainz – a special edition sold in small numbers and known to the Japanese domestic market as the Celica GT-Four RC (Rally Competition). Based on the fi fth generation Celica (ST185), this was a car that could be easily converted into an effective rally machine capable of winning in the snow, ice and forests of Europe – as well as the heat, dust and mud of Australia, Argentina and Kenya – thanks to a redesigned wide bodyand reduced overall weight. The front end retained the characteristics of the ST165 by continuing to make use of pop-up headlights, but the new car exhibited a revised bonnet and front bumper with integrated air dams, inlets and heat release vents. There was a dedicated timing belt cooling duct, and the updated twolitre 3S-GTE DOHC engine featured the world's first laser clad valve seats that were purposefully designed to improve heat dissipation.
The makeover didn't end there. A water to air intercooler and a new fuel map helped push the power of an off-the-shelf JDM model to over 231bhp (the European edition was afforded considerably less poke) while transmission and suspension components were overhauled to improve handling and to encourage faster gear changes.
TTE worked tirelessly at their Cologne headquarters to transform the RC into a fullblown Group A rally monster. Early testing of the works cars paid off; Sainz rocketed the Celica straight to second place in the WRC Monte Carlo stage of 1992, narrowly losing out to Didier Auroior and his Lancia Delta HF Integrale. It was a fantastic start to the season and showed the world that Toyota's new car was ready to continue in the vein of its predecessor. Accordingly, podium poses were in plentiful supply as the year progressed, and Sainz won the driver's championship for a second time as dealerships saw the road-going special edition fl y out of their showrooms.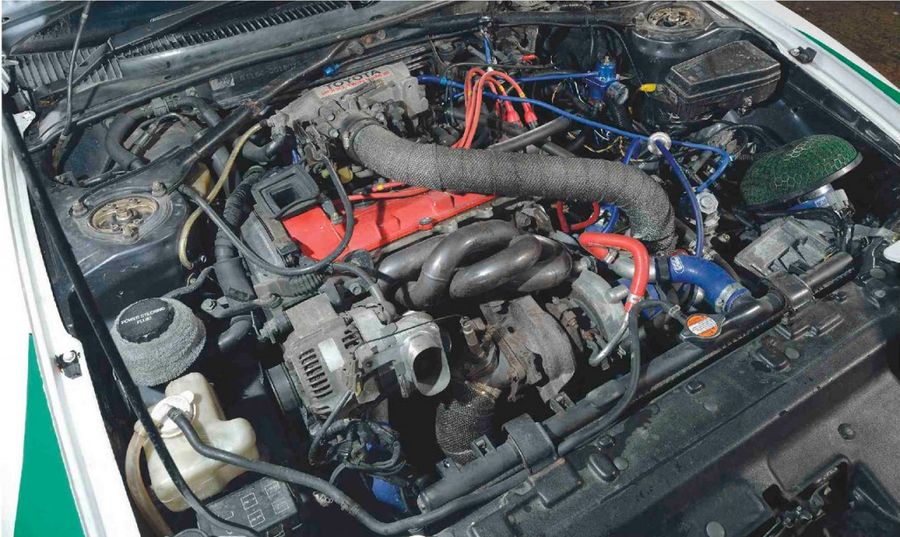 To the surprise of motorsport enthusiasts the world over, Sainz left TTE and joined Lancia for the 1993 season. Perhaps even more of a gasp was registered as the RC soldiered on without its superstar pilot and won both driver and manufacturer titles thanks to the determination of Toyota's new number one, Juha Kankkunen, and his British co-driver, Nicky Grist. As if that wasn't impressive enough, spectators were gobsmacked when TTE once again achieved the double with the same car in 1994! It was a series of victories capable of exciting even the most fair-weather of rally fans, and the works Toyota Celica ST185 GT-Four RC – dazzling in its Castrol sponsored livery – had well and truly earned its right to be recognised as one of the most important rally cars of all time.
Watching this astonishing series of events unfold through the reported media was lifelong WRC fan and Mauritius resident, Avi Seebaluck. Raised on a staple diet of fast fun as a consequence of petrolhead parents who raced a souped up Nissan Sunny on the island nation's tarmac rally stages, Avi developed a passion for rallying that saw him team up with his younger brother, Vit, in an effort to build a hillclimb focussed Austin Mini. "We were very young and had no racing experience to speak of," he tells us. "We thought we knew it all as we'd watched the WRC on our tellybox and had witnessed lots of action thanks to our parents' efforts in the Sunny. Predictably, we soon discovered that it wasn't as easy as it looked – our fi rst outing in the Mini ended in disaster following a crash that caused a signifi cant amount of damage to the car!"
A number of tweaked and tuned motors passed through Avi's hands in the years that followed, but both Seebaluck boys eventually left the tropical climes of the idyllic Indian Ocean holiday destination in order to pursue further education in the UK. "I studied business administration while Vit continued to indulge his passion with a degree in mechanical engineering," explains Avi. Understandably, cramming for exams took priority over toying with automotive projects, but graduation would allow the boys to obtain work permits that enabled them to explore motorsport related employment opportunities right here in Blighty.

The brothers landed on their feet with an invitation to join one of Europe's largest retailers of genuine JDM spares, Jap Performance Parts. The Crawley fi rm is famous for importing containers full of cars from the Land of the Rising Sun to meet demand from UK owners who don't want the hassle of using aftermarket components or used items that have been exposed to the temperamental British weather. More importantly, JPP is well known for building a number of outlandish Japanese cars to compete in various road rally and drift competitions, not to mention a landmark 1975 Celica TA27 GT running the BEAMS engineered powertrain of a modern Lexus IS200. Needless to say, the Seebalucks had found their dream workplace!
Settled in his new job, and able to take advantage of the endless supply of top drawer Japanese car parts in the JPP warehouse, Avi spent the following few years building a series of rally-inspired chariots that included a modifi ed Group N Subaru Impreza Type-R V-Limited (a car introduced to celebrate the WRC success of Carlos Sainz's post-Lancia employers). Vit was equally as committed, and entered himself into the Toyota Sprint Series where he has been crowned as champion for the past three years running. "I wanted to build a car that would allow me to compete alongside Vit," admits Avi. "I decided that a Celica ST185 GT-Four RC would be the perfect vehicle to use as it had been immensely successful in the WRC and was a car that I'd watched enthusiastically during my formative years," he says. Finding a JDM RC is easier said than done as only 1800 were sold in Japan during a six month production run in early 1992. Furthermore, most surviving examples are in the hands of collectors and enthusiasts, meaning that JPP's 'man in Japan' faced an uphill struggle when it came to sourcing Avi's next ride.
As luck would have it, a scan of the Crawley classifi eds revealed a completely tandard RC that had been imported on a whim and then left to collect dust in storage. "It had hardly been used and was free of any corrosion," smiles Avi. Without hesitation, he emptied his wallet and the car was parked up in JPP's workshop a short while later.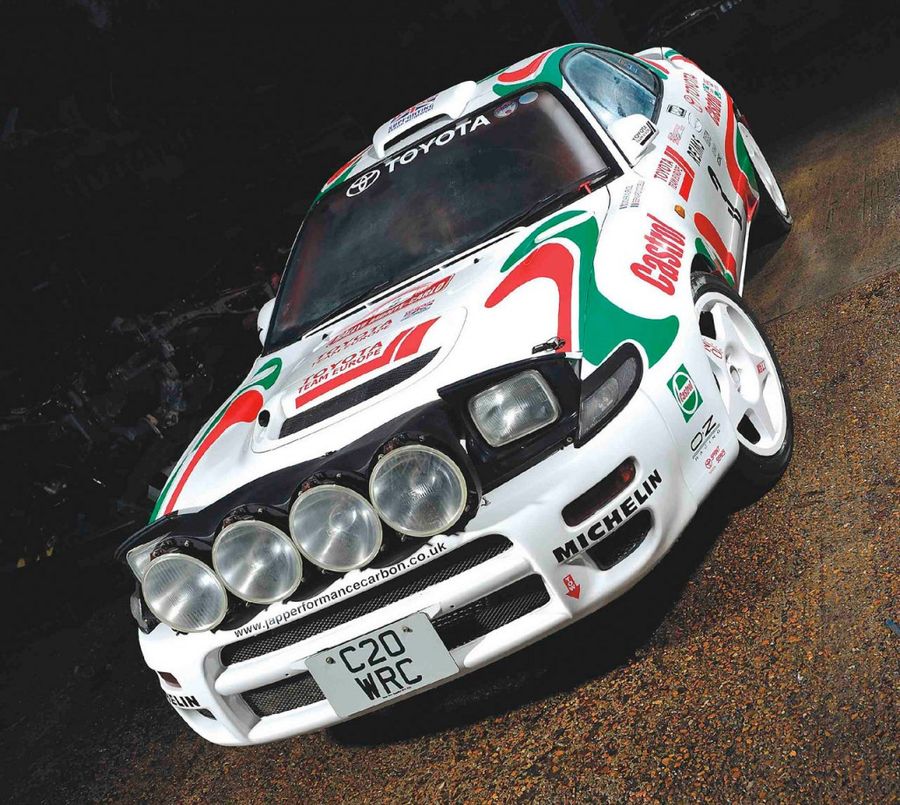 The Graphite Grey Toyota was stripped to a bare shell almost as soon as it was parked up. Avi spread the word that he was looking for genuine RC spares and drew upon JPP's customer base – a collection of motorsport bods that includes former TTE driver, Ian Duncan – to help source original Group A RC technical data. "Ian was able to supply valuable information relating to fuel management, suspension and the timing configuration of the works Celicas," confi rms Avi. "This insight helped me to compile the list of parts that I would need to build my own rally spec ST185."
Genuine RC spares are in short supply as so few of the special edition were produced. Consequently, accident damaged rally cars provided Avi with his Toyota's iconic front lamp pod and competition suspension arms, while friends in Japan came to the rescue by supplying a replacement ECU and a wealth of rare trim.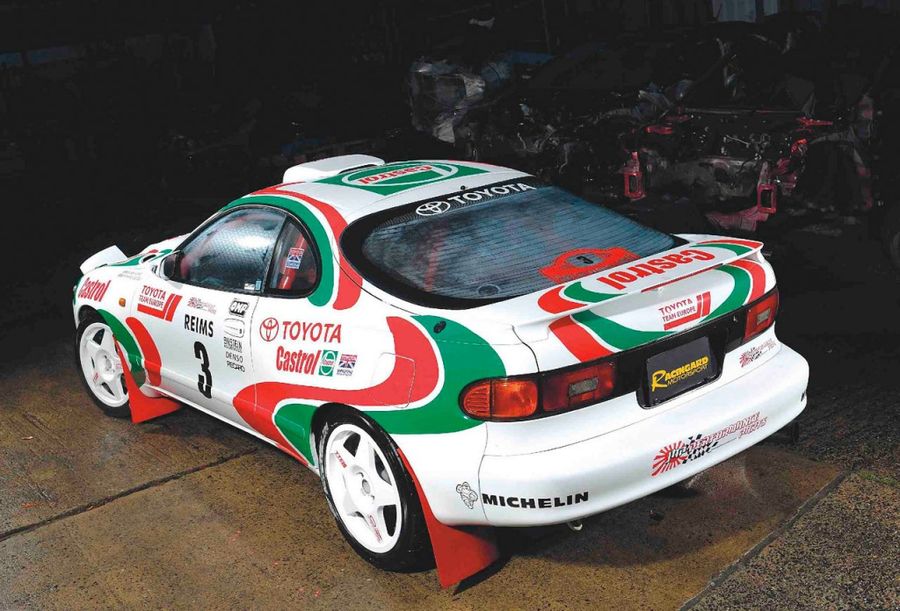 An Aladdin's Cave was about to present itself, however, when Avi contacted an eBay member who had a garage full of RC spares. "He was advertising a set of wheels for the car and I happened to ask if he had any other genuine parts for sale. I was staggered to discover that he was in possession of brand new wings, a bonnet still in its original packaging, numerous wheels, two engines, a gearbox, headlights and masses of other model specifi c items!" he grins. "It was a stroke of good fortune and I fi lled a Transit van with every single part that the guy had stashed away!"
Meanwhile, Vit was busying himself with a rebuild of the car's 16-valve lump and had decided to replace the OE water to air intercooler with an enlarged Mitsubishi Evo VIII front mounted unit with custom pipework. Airfl ow was further improved by a tubular exhaust manifold and a bespoke stainless steel exhaust system fabricated by JPP welder-wielder, Afzal Moghal, a man who is also responsible for equipping the car with a multipoint OMP rollcage.

The intercooler is one of many items to find its way off of the JPP shelves and into the engine bay of the RC, helped in no small part by a customer's request for a sixth-generation Celica (ST205) GT-Four build. "We had so many parts left over from that project that I was able to use the rear brakes and suspension on my own car," says Avi. These salvage parts are joined by Wilwood six-piston callipers at the front and BC Racing coilovers all round, while increased capacity fuel injectors, an Evo IV oil cooler and a Honda Integra DC2 Type-R radiator sit comfortably under the action packed bonnet.
The car's most recognisable feature is the aforementioned Castrol themed bodywork. Even those who don't know their Celicas recognise a rally legend when they see one, but applying the graphics with a confi dent hand wasn't an easy task by any stretch of the imagination. "My brother-in-law, Marius, painted the RC in a stunning coat of white, but we couldn't fi nd any formal documentation that would give us a defi nitive answer regarding size and placement of the sponsor decals," frowns Avi. "Ultimately, we studied photographs and videos, and I bought a 1:43 scale model of the Carlos Sainz ST185 which we used as the reference point for our calculations. Remarkably, the finished decoration lines up perfectly and we now have an authentic replica of the TTE original, albeit with the addition of JPP stickers at the rear!"

This level of attention to detail extends to an exhaust note that mirrors that of the Sainz car, a fully functional roof mounted air vent, TTE-issue lightweight wing mirrors and a Peltor intercom system. That said, changes to the original engine management setup have been necessary to support the mechanical updates, and a revised map is producing 270bhp on the stock ECU (although Vit temporarily installed an aftermarket unit that registered over 306bhp on the dyno!).
So, are we going to see Avi pilot the RC to victory in the Toyota Sprint Series? Well, not quite; a great *deal of interest in the car has been apparent since it was announced that the build was complete, and Avi informs us that a collector of classic rally rides has made him an offer that he has been unable to refuse. "The new owner plans to enter the competition in my place," he says, reassuring us that this isn't the last we'll see of his sensational Celica. With that in mind, Vit had better watch out – winning that fourth championship title might just have become a little harder than he had anticipated!
Thanks Retro Cars magazine for this amazing article
#toyota #celica #carlossainz #oldschool #rally
Подпишись на наш Telegram-канал