As far as I'm about to make up my own Honda Civic EG '92 this summer, I decided that it would be cool to take a look on different variants of tuned 5 generation of Civic. The same thing I advice to you - in order to work out and forge your own outlook and style you should firstly browse most of existing exemplars of the same car and analyze all the mistakes and right decisions. This time the article is taken from the Import Tuner Magazine. As far as Carakoom.com is the international website, it would be cool to start so called "international project".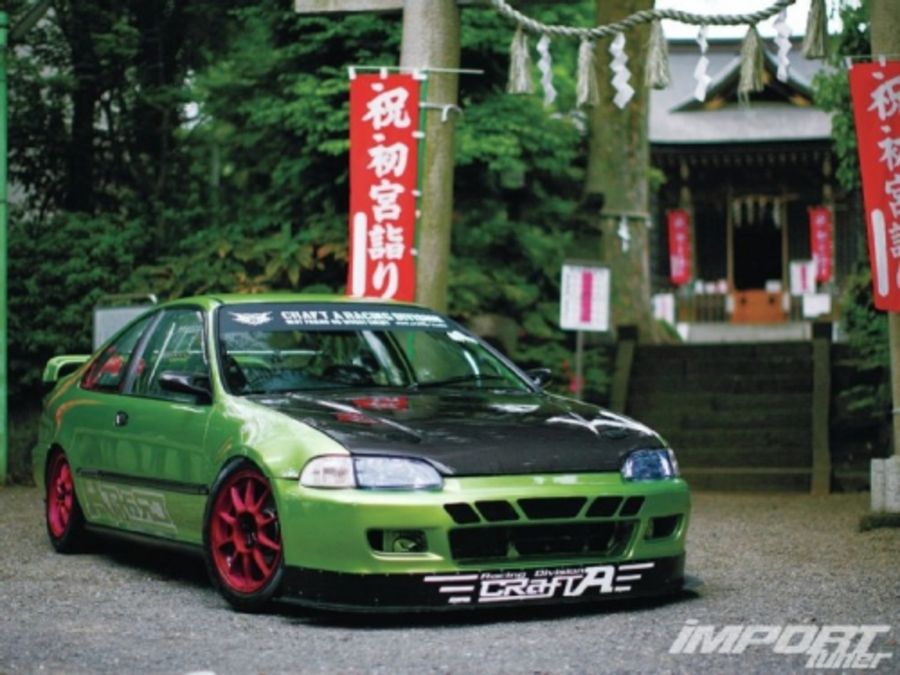 Call it a cultural exchange. That's one way to explain what Akira Miyata of Craft A has done with the Hondas he has built over the years. Out of his little workshop in Tokyo he has helped cultivate a new tuning movement that combines a lot of what is often referred to as American style, fusing it together with a more authentic JDM approach. His cars have been getting noticed more and more; in particular, the candy-green EJ1 Civic coupe you see here. Akira's creations are as much about style as they are about performance, all tied in with the kind of presentation that one would expect from the best show cars. Attention to the smallest of details has helped create a very special car, and to find out more about it we met up with Akira at the most Japanese of locations, a Shinto temple.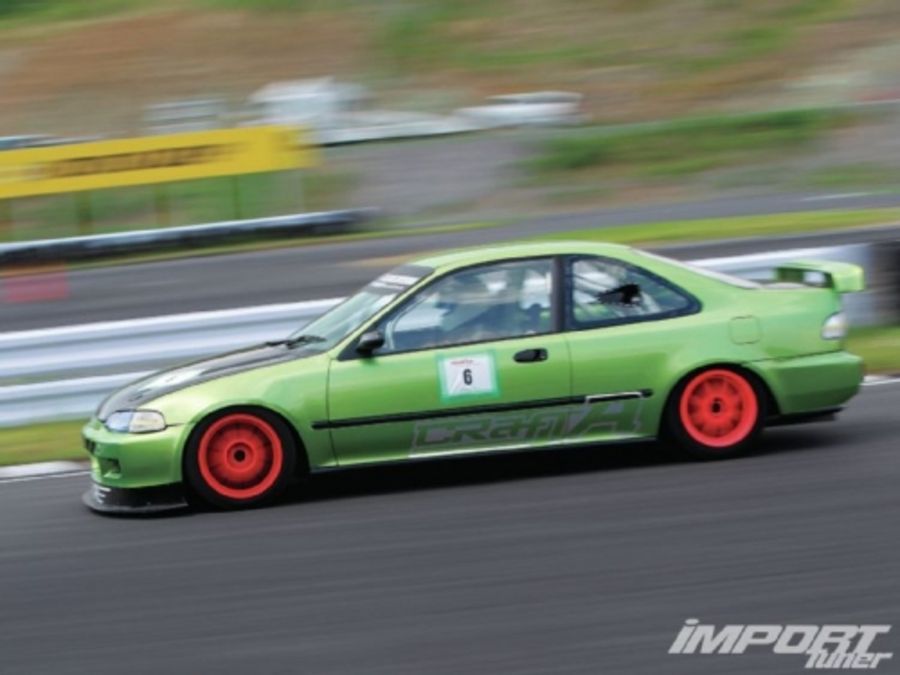 One peek under the lightweight carbon hood is enough to get a good idea of how this whole project was approached. It all started with a complete strip of the car, right down to the bare metal chassis. After getting rid of old paint, unneeded wiring, and even sound deadening, the shell was spot and seam welded before being treated to a couple of coats of the same metallic candy green that was to be used on the body.
The reason you won't find many exposed wires in the engine bay is because most were tucked and hidden away, leaving the B16 motor and its ancillaries at the center of attention. The motor itself received a nice list of parts, starting off with a custom ported and polished head running DC2 Type-R cams for better pickup and response. On the exhaust side, Craft A headers feed spent gasses onto a specially devised system, which, thanks to its diameter variations and very small 50mm tailpipe, creates a very unique type of sound that Akira guarantees you will not find anywhere else.
The B16 picks up air from the low-mounted Craft A filter and AEM cold-air intake before being tossed into the engine via the large 66mm throttle body. A custom tuned Black Monster ECU from Craft A makes sure the engine performs well in all situations, at low rpm when driving around town and well into the VTEC zone when blasting around tight and technical tracks like Honjo. A massive Koyo Racing radiator keeps things cool in what has to be one of the most well-presented engine bays we have ever seen coming out of Japan.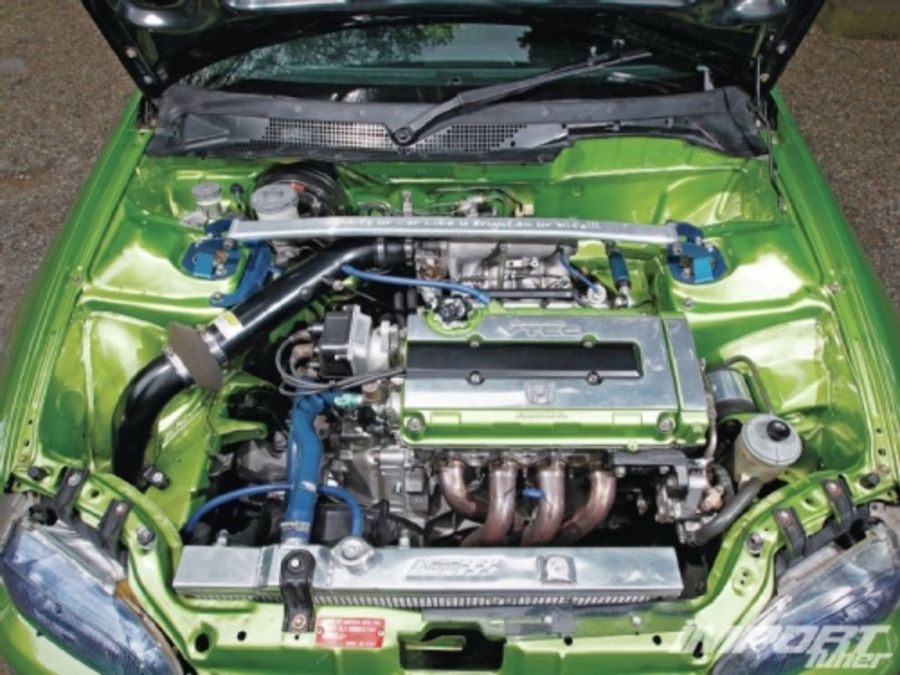 Following the chassis prep and painting, the front and rear subframes were bolted back in place along with arms and links. Helping stiffen up the EJ1 through the twisty bits are DC2 Integra Type-R stabilizers, fitted along with specially valved Craft A Gravity Force adjustable dampers. Seeing that the car rides an inch off the ground, stiffer springs were a necessity, also required by the already rock-solid track-spec shocks.
Spring rates are a filling-rattling 22 kg/mm front and slightly more compliant 16 kg/mm for the rear. Considering a stripped-out EJ1 like this weighs next to nothing, there was no real need to go wild on the brakes, but upgrades were nonetheless needed. Civic EK9 front calipers and discs were thrown on along with DC2 rear calipers and EG6 discs, helping give a very well-balanced front-to-rear braking distribution, thanks in part to the high-friction Arma pads.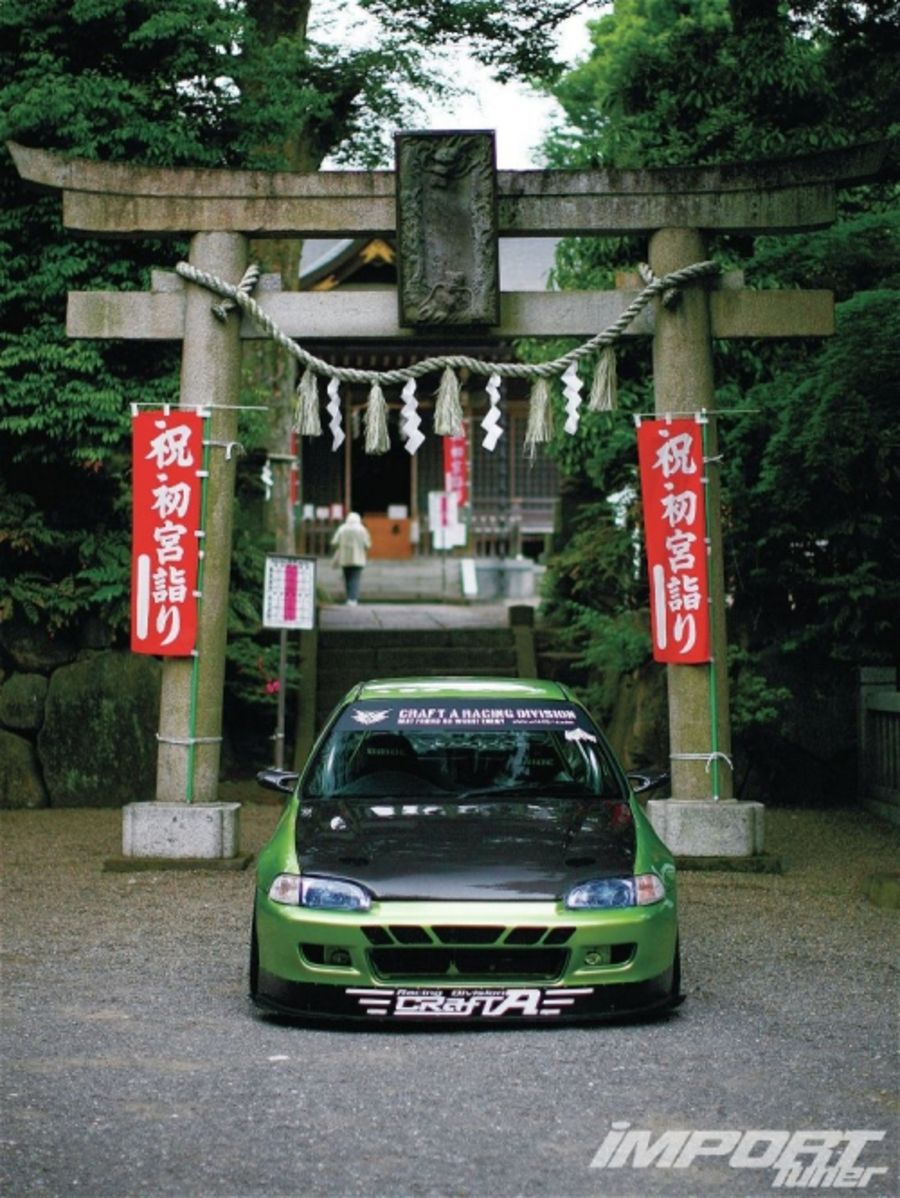 Style reigns prevalent on this Craft A Civic coupe. Akira's main aim was to go with a style nobody had ever seen, and we think he really got it right. The car oozes presence from every angle but it's the front end that really stands out with the cutout bumper and riveted-on Craft A lower lip spoiler. The obligatory carbon hood is there to help shave weight off the front wheels while the USDM headlights and side markers add a touch of import feel. More carbon can be found at the back with the Craft A trunk lid on top of which is fitted the Craft A touring car–inspired rear spoiler.
Additional details include rear bumper cutouts and a custom-made diffuser. Carbon mirrors and polycarbonate glass are a final touch, and if you look closely you can see a side intake built into the passenger-side rear glass, helping provide air to the driver when the car is out on track. If the candy-green body wasn't enough of a statement, the wheels sure help make up for it. In true show car style, the wheels are painted in two different hues, purple for the driver side of the car, retina-burning florescent pink for the other side. The front Enkei Sport ES Tarmac are an inch wider than the rear 16x7 Volk Racing CE28N. This, of course, is in order to fit wider 225/45 Kumho V700 rubber up front for better grip, while the skinnier 195/55 at the rear allow a little slip for those adrenaline-filled, lift-off oversteer moments.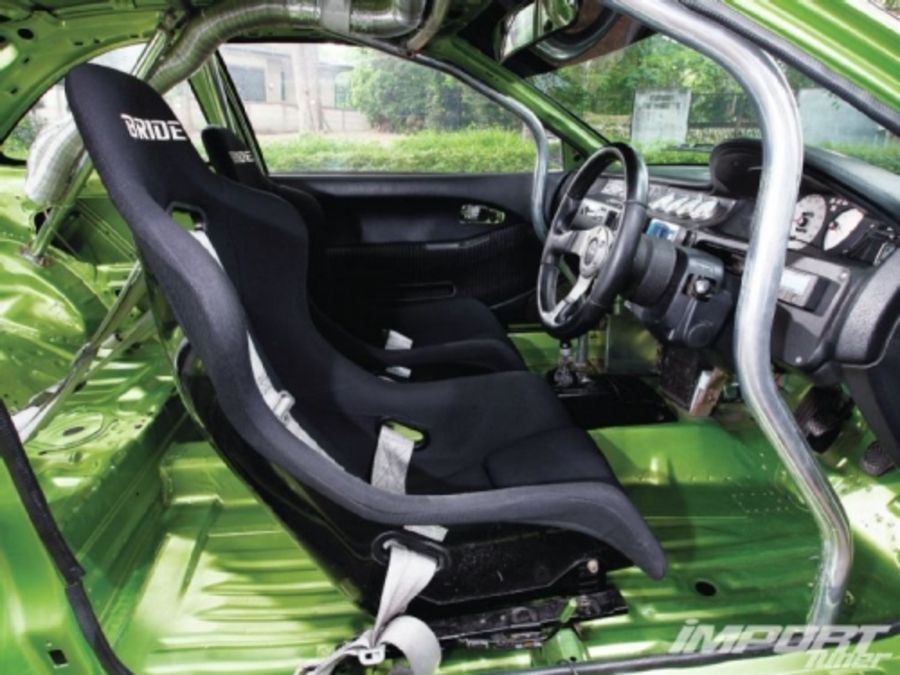 The exposed green chassis helps create a race car–like ambience for the driver, as he sits surrounded by nothing more than metal and a custom-made polished aluminum rollcage. Bride Gita III low-mounted buckets will keep occupants from moving around even through the most extreme corners, thanks in part to the silver Momo Racing harnesses. The stock instrumentation is joined by a triplet of Defi gauges mounted on the center part of the dash for easy consultation. An A'PEXi RSM Rev/Speed meter sits right underneath, offering more precise readings from the ECU.
A Craft A switch panel takes the place of where one would usually find the audio system in an EJ1 Civic, and allows the whole electrical system to be turned off with a twist of the red killer switch. Proving that this car spends a lot of time at the track is the permanently mounted Lap Shot professional lap timer, a very popular unit in the Japanese track-day scene.
With established Honda tuners like Mugen, Spoon, and Feel's having developed their own and very recognizable tuning philosophies, we commend Akira for having managed to make his cars stand out in such an evident way. It proves that sticking to your ideas and striving to be unique always pays off in the end.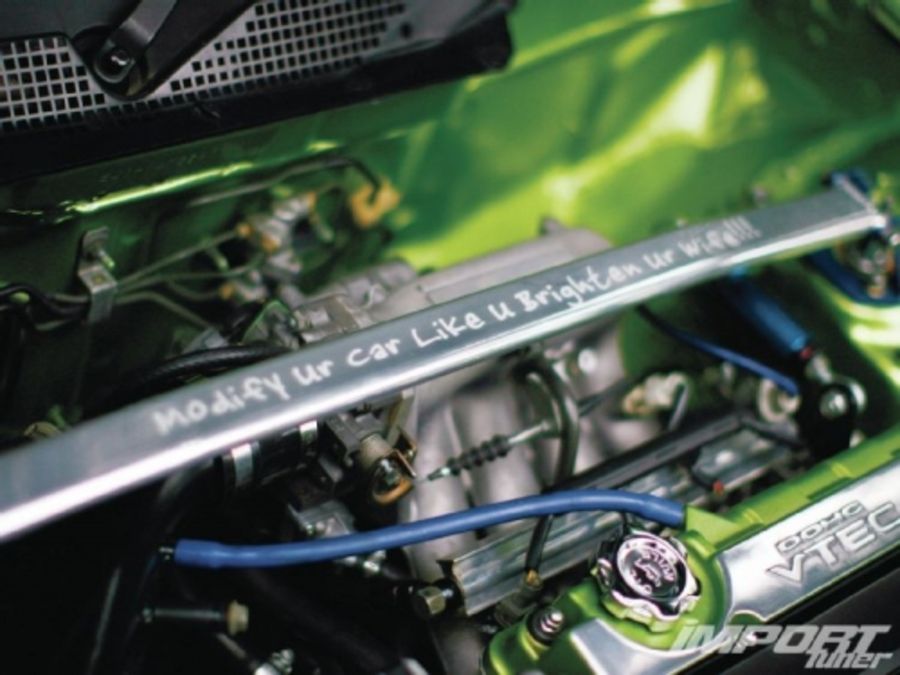 Engine Fully rebuilt and balanced B16A engine; DC2 Integra Type-R camshafts, FPR, fuel pump; Craft A ported and polished head, cone filter, stainless steel 4-2-1 headers, Myakudo stainless steel exhaust 60mm - 80mm - 50mm tailpipe, 66mm throttle body, lightweight crank pulley, BlackMonster ECU, wire tucked and shaved engine bay, candy-green color for bay and engine covers; AEM cold-air intake; Koyo Racing radiator; Samco blue silicon hoses
Drivetrain ATS Third, Fourth, and Fifth close ratio gearset, OS Giken Super Single clutch, lightweight flywheel; Cusco one-way LSD
Suspension Craft A Gravity Force adjustable dampers, 22 kg/mm springs front, 16 kg/mm springs rear; DC2 Integra Type-R stabilizers; Cusco front strut brace with master cylinder stopper
Brakes EK9 front calipers and discs; DC2 Integra Type-R rear calipers and EG6 discs; Arma brake pads
Wheels/Tires Enkei Sport ES Tarmac 16x8 +30 (front); Rays Engineering Volk Racing CE28N 16x7 +35 (rear); custom paint pink/red; Kumho V700 225/45R16 front, 195/55R16 rear
Exterior Craft A front lip spoiler, carbon hood, carbon trunk lid, rear wing, lexan windows, carbon mirrors, candy-green paint; USDM headlights, clear corners, shaved side markers, clear taillights, shaved antenna; Check Shop blue headlight film Interior Six-point aluminum rollcage; fully spot-welded and riveted chassis; Craft A candy-green paint, switch panel; Bride Gita III bucket seats; Momo racing harnesses, steering wheel; Sparco shift knob; A'PEXi RSM rev/speed meter; Defi gauges (exhaust temp., water temp., oil press., oil temp.), Control Unit II, rpm meter, Lap Shot lap timer; relocated battery in aluminum enclosure; side air intake.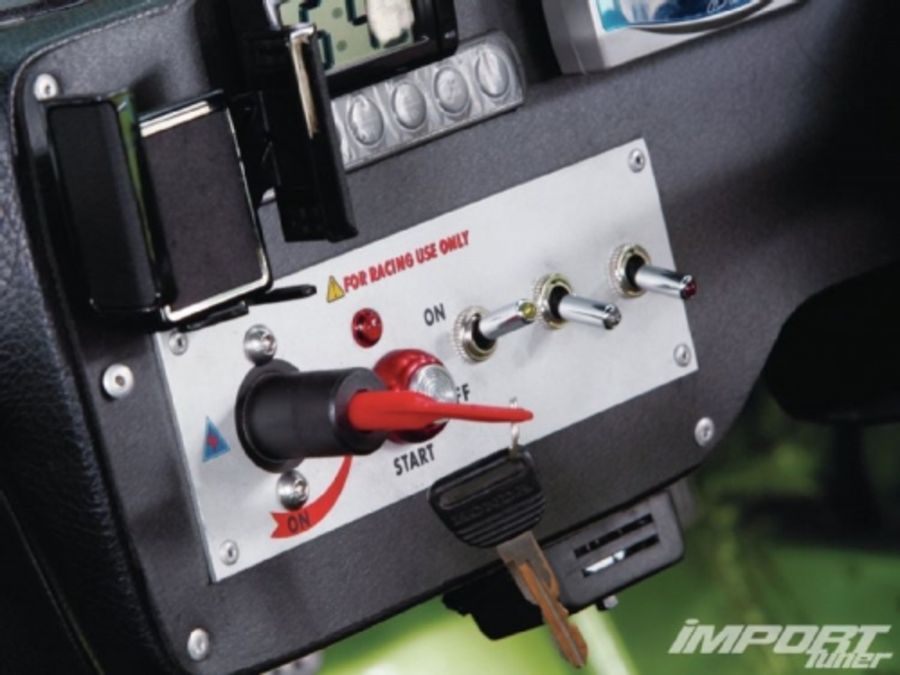 Подпишись на наш Telegram-канал